¡"Up All Night" es Oro en México!
EL GRUPO POP QUE HA CAUSADO SENSACIÓN EN TODO EL MUNDO
ONE DIRECTION
ALCANZA HOY EN MÉXICO LA CATEGORÍA DE
"DISCO DE ORO"
POR MÁS DE 30,000 UNIDADES VENDIDAS DE SU ÁLBUM DEBUT
"UP ALL NIGHT".
AGOTADOS LOS BOLETOS DE SUS CONCIERTOS EN EL AUDITORIO NACIONAL DE LA CIUDAD DE MÉXICO EL 5 Y 6 DE JUNIO.
ESCUCHA ACTUALMENTE EN LA RADIO A ESTA BANDA BRITÁNICA CONFORMADA POR HARRY, ZAYN, NIALL, LIAM Y LOUIS, CON EL TEMA "WHAT MAKES YOU BEAUTIFUL".
EL ÁLBUM "UP ALL NIGHT" SE ENCUENTRA EN LOS PRIMEROS LUGARES DE VENTAS EN 20 PAÍSES:
REINO UNIDO, MÉXICO, ESTADOS UNIDOS, ITALIA, ESPAÑA, FRANCIA, AUSTRALIA, SUECIA, HOLANDA, BÉLGICA, DINAMARCA, NORUEGA, PORTUGAL, FILIPINAS, SINGAPUR, TAILANDIA, POLONIA, FINLANDIA, HUNGRÍA Y NUEVA ZELANDA.
¡¡¡¡ ESTO SI ES UN FENÓMENO GLOBAL !!!!
VALE LA PENA RECORDAR, COMO UN HECHO HISTÓRICO, QUE POR PRIMERA VEZ UN GRUPO BRITÁNICO DEBUTÓ EN SU PRIMER SEMANA DE VENTAS EN EL No. 1 EN ESTADOS UNIDOS Y CANADÁ.
One Direction está integrado por Liam Payne, Louis Tomlinson, Niall Horan, Harry Styles y Zayn Malik, quienes grabaron su álbum debut con la ayuda de una combinación ecléctica de los productores más importantes del mundo de la música, incluyendo a Red One (Lady GaGa, Jennifer Lopez), Steve Robson (Take That, Leona Lewis), Brian Rawling (Enrique Iglesias, Cher), Richard Biff Stannard (Spice Girls, Kylie Minogue) y Rami & Carl Falk (Britney Spears, Pink, Nicole Scherzinger).
Las canciones destacadas de este álbum son "Gotta Be You", una emotiva balada con una melodía inolvidable. El tema "One Thing" es otro éxito seguro; "More Than This" muestra que valen la pena las voces de estos jóvenes y "What Makes You Beautiful" es un tema rítmico que ya ha llegado al No. 1 de la radio en Reino Unido.
Adicionalmente, One Direction hizo historia hace algunas semanas: su álbum debut "Up all Night" entró directamente al N° 1 de la lista de "Billboard 200" de Estados Unidos, convirtiéndose en el primer grupo inglés en debutar en el lugar N° 1 en Estados Unidos, con su primer álbum "Up all Night". Igualmente en Canadá se colocaron de inmediato en el No.1 de ventas en su primer semana.
Alrededor del mundo, los fanáticos de One Direction han utilizado las plataformas digitales como Twitter, Tumblr y Facebook para crear un fenómeno global, inspirando una generación de 1D-manía. One Direction cuenta con más de 204 millones de reproducciones en YouTube, 12 millones de seguidores en Twitter y más de 3.6 millones de seguidores en Facebook. El video musical de "What Makes You Beautiful" ha generado más de 72 millones de reproducciones y lo puedes ver en este link: http://vevo.ly/1DWMYB.
Todos los integrantes son originarios del Reino Unido, tienen entre 18 y 20 años, y audicionaron para "The X Factor" en el 2010 como solistas. Sin embargo, siguiendo la sugerencia de Simon Cowell, unieron fuerzas como grupo y se convirtieron rápidamente en uno de los competidores más populares de todas las emisiones del programa, terminado en los tres primeros lugares y generando una cantidad de fanáticas impresionante desde entonces.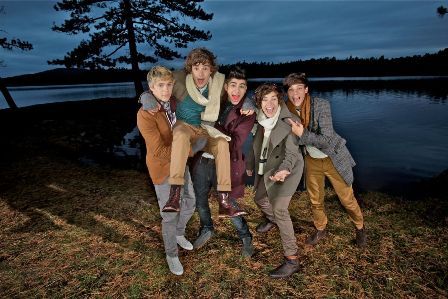 < Regresar al índice de noticias
Comentarios
Noticias Recientes
Last week, Harry, Niall, Louis and Liam all did the ice bucket challenge to raise money and awareness for ALS and you can watch them all right here.
Leer la historia completa